A Nigerian university graduate set all his certificates on fire after he failed to secure a job, 13 years after he graduated from school.
The Ajayi Crowther University graduate got upset and fed up with his situation and decided to set all his certificate on fire after he failed to secure any employment with them.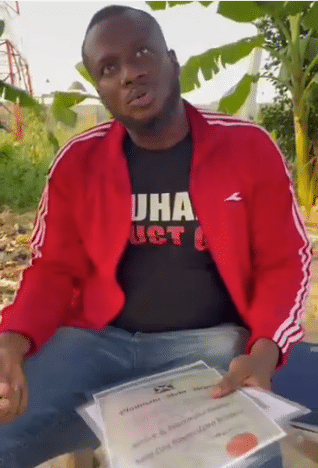 He showed each of the certificates he was issued from primary to the university level and stated that they had all been useless to him.
The man known as lutimain Alvin Lanre lamented that he graduated from Ajayi Crowther University and did his National Youth Service Corps (NYSC) in 2013, but since then he has been dragging jobs with people who didn't go to school like him.
He decided to set all the certificates on fire since they are all useless to him.
Samblinqz said: "If he does that, how would his message be passed?"
@therealmifo commented: "Coloured photocopy machines dey. Who are you fooling?"
@HarunaNuhu said: "Valid points but rash action to take."
@OkoronkwoJohns1 said: "He is expressing frustrations of Nigeria as a country."
@2023best_is_35 said: "I have enlarged mine. They are in my sitting room. It is a reminder for me not to allow my children to study useless courses in this country. Rather, they will go for professional courses."
Watch video below …
He can actually dump them somewhere and forget about them rather than doing this.. this is sad pic.twitter.com/FUmHJeoTu3

— JUDE SKONES™ (@perfectskones) November 13, 2023